ISKCON Temple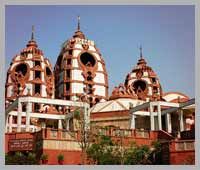 ISKCON Temple as abbreviated of International Society for Krishna Consciousness is set at Raja Dhirshain Marg at Sant Nagar, near the East of Kailash. This holy abode among the 40 temples in India is an address for Lord Krishna, built by ISKON to the honour of Lord Krishna.
This tremendous temple placed amidst the profuse green gardens houses the beautiful deities of Sri Radha Krishna Parthasarathi, Sri Gaura Nitai, Sri Rama, Lakshman and Hanumana. In 1988, this temple was built by the followers of 'Hare-Rama Hare-Krishna' cult which was commenced by Acharya Bhaktivedanta Swami Prabhupada.
ISKON Temple in Delhi is illustrious for its precise architecture having an air-conditioned hall that may hold as many as 1,500 people at one time. The beautiful decorated temple 'Shikhara' rises to a height of 90 feet above ground that is liable to be seen from distant.
The hall of the temple has the fine art paintings by Russian artists, representing lives to Hindu mythological characters, like Radha-Krishna, Sita-Ram, Laxman, Hanuman and Chaitanya Mahaprabhu.
The main attraction of this temple comes as its central prayer hall. This hall has some splendid idols of Radha-Krishna, other deities along with informative religious lines and expressions.
Also the other attraction of ISKCON Temple is the temple museum. This museum arranges multimedia shows telling the story of Ramayana and Mahabharata with a brief interpretative discernment of views, philosophy and practice of the Hare Krishna cult.
Janamashtmi Festival (the birth of Lord Krishna) gets celebrated here at a large scale that has the huge number of devotees from several parts of the globe.
Visiting Time
The temple opens in the morning from 4.30 am to 12.00 pm and in the evening from 4.00 pm to 9.00 pm.
Specific Attraction
Spiritual programs such as Kirtan, Aarti, and preaching are held in the temple complex daily. Museum shows get arranged in the evening at common charges on all days excluding Monday.
An initiative in Delhi to the houses of Lord Krishna.