Chini Ka Rauza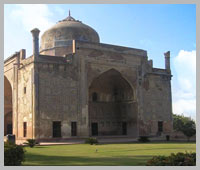 Chini ka Rauza is among the lesser-known monuments of Agra. It is the tomb of Allama Afzal Khan Mullah of Shiraz who was a famous poet, scholar and the Prime Minister of the Mughal Emperor Shah Jahan. Constructed in 1635, the tomb lies 1 km north of Itmad ud Daulah's tomb on the eastern bank of river Yamuna.
The tomb of Allama Afzal Khan got its name form the colourful chini or tiles that surround the walls of the tomb. The green, blue and yellow tiles that beautify this medieval Indian tomb make it spectacular.
The glazed tile ornamentation dominates the whole architectural formation of this building. This mausoleum exhibits the fine blend of Persian and Mughal architecture pattern of decorations and construction.
Its central chamber is octagonal in shape and houses eight arched recesses. Four square chambers arise from the central chamber. These are beautifully linked to the side halls and outer porches. The central arch also features inscriptions that are marked out with blue coloured tiles.
Other important features of this monument include the existence of an Afghan-style bulbous dome, and remarkable decoration coupled with geometric and floral arabesque in varicolored glazed tiles.
Get closer to the history at Chini Ka Rauza in Agra!