Must Do Activities
Re-live the splendour of the past as you travel through the regions of India's prominent cities. With their prized possessions of forts and tombs, these cities make India popular on the global map of World Heritage Sites. Golden triangle tour comes up with endless options to indulge yourself in fun, thrill and entertainment.
While visiting Jaipur, do not forget to enjoy aThe Elephant Ride at Jaipur that will give you a royal experience. Savour the kingly feel while sitting on elephant's back and let yourself lose in the charm of bygone era.
Varanasi travel not only offers you to visit some of the most revered temples of Indiabut also contributes to avail the options like Boat ride. The exciting Boat Ride at Varanasi will offer you the best glimpses of the ghats and religious sites of the city.
Adventure-lovers need not feel disappointed on Golden Triangle Tours as the tour offers ample opportunities to take part in various adventure sports. Go on this exciting tour and enjoy adventures like River Rafting & Canoeing at Rishikesh.
Feel the royalty, entertainment and thrill with the tour!
Elephant Ride at Jaipur
What if you get an opportunity to be treated like Kings? Well, while enjoying an elephant ride in Jaipur, you get to taste the royalty. Though camel is known as the prized attraction of Rajasthan yet elephant holds the attention of tourists visiting the popular state. Epitomizing royalty...
read more...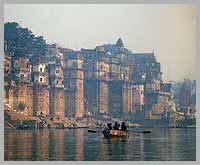 Boat Ride at Varanasi
The early morning boat ride on the River Ganga begins with a acknowledgement by the sun in all its glory. Lighted candles floating on exquisite banana leaves on the river and devotees taking a holy dip in the Ganga are a common sight....
read more...
River Rafthing & Canoeing in Rishikesh

This is truly the best part about the Rishikesh trip. This Indian sub-continent comes home to the largest network of rivers in the world. The northern rivers that meet in Rishikesh course with force makes to rafting an elating adventure.....
read more...